Climate Change and Water Security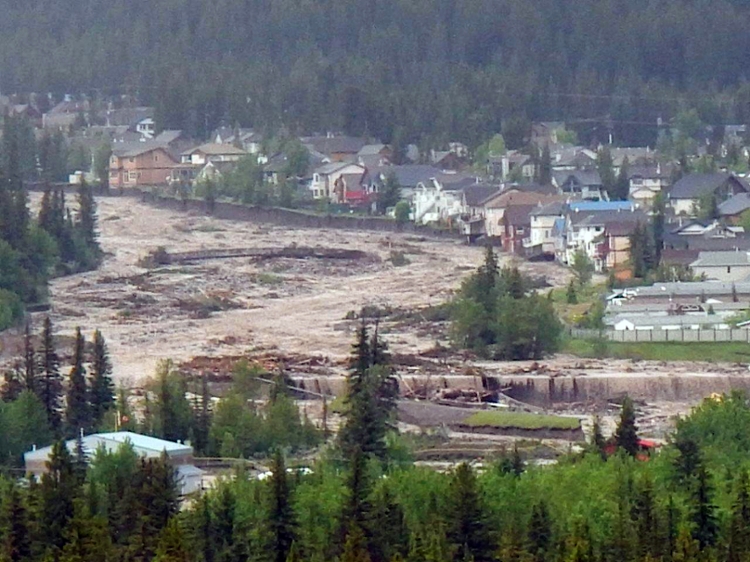 Using data gathered at key sites across the Saskatchewan River Basin, we are developing modelling systems to better understand the effects of climate change on water security and how to improve management practices to adapt to challenges posed by too much – or too little – water.  Tools developed in Saskatchewan have the potential to be used worldwide to evaluate water needs in 2050, 2100 and beyond. 
Understanding the impacts of a changing climate on water resources is of major concern here in Canada and around the world. This need is especially urgent in climates such as Western Canada where the cold region, semi-arid climate creates a hydrological system that is extremely vulnerable to climate change and can be profoundly affected by changes in temperature and precipitation.
Theme Objectives and Research Sites:
Research sites: St. Denis National Wildlife Area, Kenaston, Boreal Ecosystem and Modelling Sites (BERMS), Canadian Rocky Mountains, Sibbald Lake Research Basin
Improve understanding of interactions between terrestrial ecosystems and atmospheric processes, and of the impacts of climate variability on water-related ecosystem functions
Improve the quality of global and regional climate models and enable better downscaling for water-related climate change impacts assessment
Improve assessment of water supply and quality variability, including climate change impacts
Enable policy development by commercializing new decision support tools for water security analysis
Reinforce and establish internationally-leading science
Land-water Management and Environmental Change

Activities on land have the ability to impact water quantity and affect water quality. Research groups are increasing our understanding of how agriculture management practices and urban water management affect water quality and water movement through a watershed.

Land-Water Management and Environmental Change working groups are collaborating on research into:
Effects of agricultural management on hydrological function, discharges and connectivity to the river system.

Impacts of agricultural and urban water management, including nutrients, pathogens and pharmaceutical products on water quality.   

Lake biogeochemical processes, including ecosystem sensitivity to climate variability and pollutant stress

Development of feasible policy interventions and associated lake water quality and ecosystem responses
Theme Objectives and Research Sites:
Research sites: Lake Diefenbaker, Swift Current Creek, Saskatoon, Smith Creek, St. Denis National Wildlife Area, Kenaston, Tobacco Creek, Buffalo Pound Lake

Improve agriculture land-water management by understanding the effects of multiple stressors on water quantity and quality in watersheds

Develop water quality modelling tools by understanding the interaction between the hydrology, water quality and aquatic ecology of research sites

Develop new decision support tools for management and remediation of diffuse pollution, including mitigating impacts on aquatic ecosystem health
Sustainable Development of Natural Resources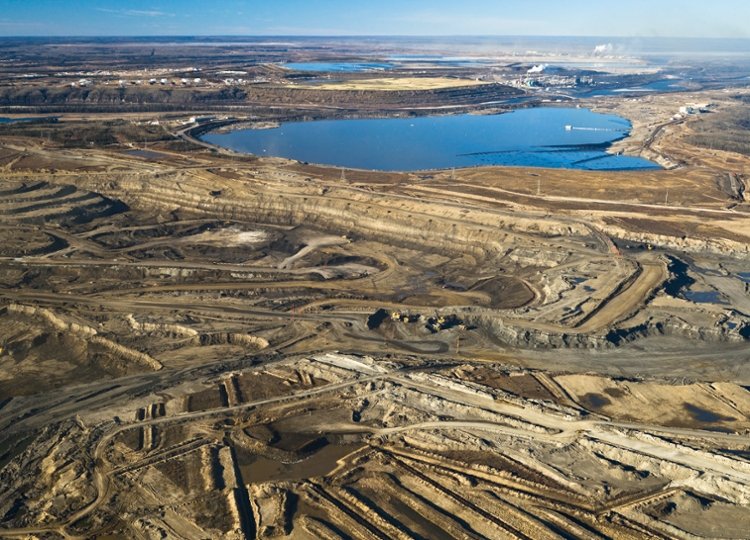 The Sustainable Development of Natural Resources research theme addresses the challenge of sustainable use and protection of water resources in industries such as the energy sector, mining and forestry. Our research goal is to develop new assessment and remediation technologies by understanding hydrology, ecotoxicology, water quality and wetland ecology interactions.
A Canadian example where our research will make a difference is in the Alberta Athabasca oil sands – an area that faces a highly complex set of scientific, technical and societal challenges. This area presents a unique opportunity for the development of new science and management practices that could significantly change the way water is used and the way land and water are reclaimed, not just in the oil sands industry, but in other mining operations in Canada and around the world.
Theme Objectives:
Develop new assessment and remediation technologies by understanding the interactions between ecotoxins, the hydrological cycle and wetland ecology. Remediation techniques could include the use of engineered wetlands for wastewater treatment.

Better understand the ecological and human toxicity of oil sands pollutants by integrating pollutant assessments across terrestrial and aquatic ecosystems.

By understanding how pollutants biodegrade and how they are sequestered, develop integrated decision-support tools for risk assessment and remediation of contaminated land and water.

Examine the potential for the development of extraction and processing technologies that have a reduced environmental footprint.

Advanced analytical facilities, including the Canadian Light Source and the Toxicology Centre, play a significant role in meeting the above objectives.
Socio-hydrology
Socio-hydrology is a new area of research that integrates people and their activities into water science. Our goal is to understand societal attitudes, relationships and values with respect to water security and facilitate active stakeholder engagement in GIWS work.
Theme Objectives:
 Build relationships with stakeholder communities to develop a common understanding of their values and what they identify as threats to water security
 Understand divergent perspectives on the definition of water security and the major driving forces for future insecurity
 Assess the social and natural science questions deemed important by stakeholder communities and draw on local knowledge to inform the research
 Study societal response to water stress and to economic and policy instruments
 Inform policy options to address water uncertainty and impediments to effective water governance
Pilot: A Collaborative Approach to Defining Water Security in the Saskatchewan River Basin
GIWS hosted a series of workshops in spring, summer and fall 2012 to find out how people engaged in the water sector in the Saskatchewan River Basin personally define water security. Stakeholders representing a range of interests in water and water management were invited to attend. The final attendance list represented municipalities, farmers, industry, environmental groups, First Nations and Metis, and water scientists and managers. Workshops were held in Kananaskis and Medicine Hat, Alberta, and Saskatoon, Nipawin and Cumberland House, Saskatchewan. Each workshop followed the same format and took participants through several exercises to gather information about their thoughts and experiences regarding governance, resource stresses, policy and other perceived opportunities for, and threats to, current and future water security in the Saskatchewan River Basin.
The data gathered from these conversations helps feed into the types of scientific questions GIWS researchers should be examining, and help us understand water security on the Prairies.
Downstream: A Theatre Production
In a new and novel approach, the analysis of data gathered from the 2012 workshop series was communicated to and assessed by stakeholders through a travelling play titled Downstream. Performances took place throughout Saskatchewan and Alberta during February 2014. The play conveyed dramatized perspectives of water security in the Saskatchewan River Basin and was a collaboration with the U of S Drama Department. It was written by U of S playwright-in-residence, Kenneth T. Williams. Audience members participated throughout the performance and a focus group of decision makers followed the play. The play toured through Saskatoon, Calgary, Medicine Hat and Cumberland House.
U of S Media:
The Drama of Water Research
Downstream marries water research and performance art
Water and Health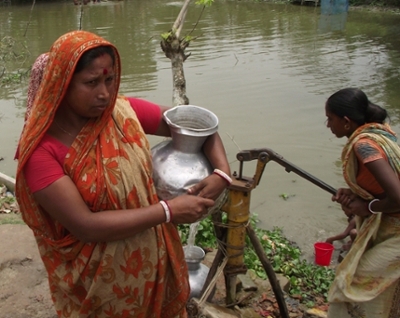 Water and human health are strongly connected. We are bringing together leading expertise to address issues of importance both here in Saskatchewan and around the world.
Our water and health research addresses four strategic priority areas:
Water supply for rural and Aboriginal communities, with a strong Northern focus;
Drinking water quality in developing countries, including issues of arsenic and salinity in Bangladesh
Public water supply issues addressing questions such as: How safe is our water? What are the public perceptions of that safety?
Health impacts of the legacy of resource development activities (Minerals, Oil Sands)
Current Projects and Team Members
Safe Drinking Water - epidemiologic studies and risk assessments of drinking water contaminant exposure in Rural and Northern Saskatchewan (Bharadwaj, Waldner, Wilson)
Source Water Assessment and Protection program for communities in North-West Territories and Nunavut (Bob Patrick)
Quality of Rural Drinking Water in Saskatchewan (Cessna, Liber, Wheater)
In Land and Life: Cadmium and Health Implications for Indigenous Communities in Central Alberta (Giesy, Jones)
Drinking Water Salinity and Heath in Bangladesh (Ireson, Wheater)
Arsenic in Drinking Water in Bangladesh (Pickering, George)
Endocrine Disruptors in Surface & Drinking Water (Giesy, Hecker)
Water and Health – The Global Context
Approximately 46% of deaths world-wide are attributed to unsafe water and poor sanitation.
Access to clean drinking water and sanitation is a key issue for rural and First Nations communities in Canada.
Water supplies may have natural contaminants (e.g. arsenic), or become contaminated through human, agricultural or industrial activities.
Some standards used to monitor drinking water quality are controversial, for example, medical evidence to support widely-adopted criteria for nitrates in drinking water is relatively limited, and standards for pesticides vary widely across countries.
Many infectious diseases such as cholera, malaria, dengue fever, schistosomiasis and lymphatic flirasis, are transmitted through water. Globally, 200 million cases are associated with schistosomiasis and 25 million cases are associated with lymphatic filariasis.
Nutrient levels are increasing in rivers and lakes due to human activities, which can produce blue-green algae under certain conditions. These algae produce toxins capable of killing animals and harming human health. Climate change is likely to exacerbate this issue.
Flooding, drought and environmental degradation associated with climate change directly affect human health through death and disease. They may also have long term effects on mental health.
Water and Wastewater Treatment Technologies
With increasing pressures on water quality due to human activities, there is a worldwide need to improve efficiency and effectiveness of water and wastewater treatment technologies, and to assess impacts of contaminants on environmental and human health. Treatment challenges include appropriate technology for rural communities, development of advanced water treatment technologies to tackle emerging contaminants in our water systems, improved technologies for the treatment of industrial wastes, including those generated by natural resource extraction, and improved technologies for remediation of pollution. Five major areas of application of particular relevance to the U of S, the Province of Saskatchewan and Western Canada is addressed by this theme, namely the needs of the oil and gas sector, the food and beverage industry, natural resources (particularly mining) industry, municipalities, and rural water supply and sanitation.
Our competency matrix shows available research expertise in the area of water and wastewater treatment technologies, which is mapped to various units at the University of Saskatchewan.
Department of Chemistry
Department of Mechanical Engineering
Department of Chemical and Biological Engineering
Department of Civil and Geological Engineering
Toxicology Centre
School of Environment and Sustainability
Saskatchewan Structural Science Centre
Canadian Light Source
Groundwater and Hydrogeology
Report: Groundwater, Hydrogeology and Sustainability in Saskatchewan, Peach, Denis
Our Groundwater and Hydrogeology theme is co-led by Andrew Ireson (Subsurface hydrology), Grant Ferguson (Hydrogeology) and Matt Lindsay (Geochemistry; NSERC-Syncrude Industry Research Chair). These researchers collaborate on various groundwater-related projects with Howard Wheater (Canada Excellence Research Chair in Water Security), Lee Barbour (NSERC-Syncrude Industry Research Chair) and Jim Hendry (NSERC-Cameco Industry Research Chair), respectively. The members of the team has complementary expertise and are looking at:
Andrew Ireson: Bridging the gap between the shallow surface processes associated with the soil-plant-atmosphere continuum, and the deeper underlying groundwater with a key focus on quantifying unsaturated zone flow and transport processes, and the role of the subsurface in broader hydrological cycle;
Grant Ferguson: Regional and deep hydrogeology along with the interplay between groundwater and energy to understand groundwater flow in a variety of settings;
Matt Lindsay: Examining processes and conditions that control water quality within geohydrologic systems. More specifically, studies how interactions among chemical, biological and physical process influence element mobility within groundwater and surface water systems in mining environments. He applies this information to the development of novel strategies for reducing impacts of resource development on water resources.
Groundwater is important to water security in a number of ways: it is a critical component of the hydrological cycle; it is an important water resource; and it plays a major role in the transmission of contaminants. While groundwater is often a cheap resource to develop, monitoring and investigation are expensive. There are thus major challenges to quantify the extent of groundwater resources and their quality, the natural recharge, the long–term impacts of abstractions and waste disposals, the impact of resource development, and hence to provide the information needed for sustainable development.