About Us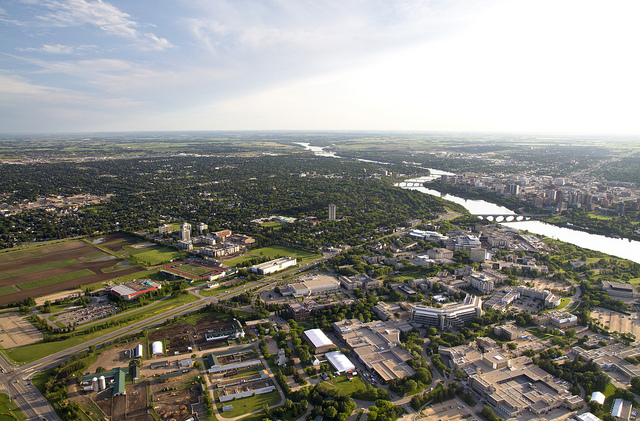 The Global Institute for Water Security (GIWS) at the University of Saskatchewan (USask) is the top water resources research institute in Canada and one of the most advanced hydrology research centres in the world. GIWS is dedicated to helping protect our precious freshwater resources needed for the world's growing demand for sustainable food production, mitigating the risk of water-related disasters such as floods, droughts, and fires, predicting and forecasting extremes of global change through the use of advanced remote sensing and modelling techniques, and co-creating traditional knowledge with western science to empower Indigenous communities in protecting water health. 
GIWS is led by Executive Director Dr. Jay Famiglietti, Canada 150 Research Chair in Hydrology and Remote Sensing and Professor at USask's School of Environment and Sustainability and the Department of Geography and Planning. Before moving to Saskatchewan in July 2018, Famiglietti served as the Senior Water Scientist at NASA's Jet Propulsion Laboratory, and he was a faculty member at the University of California, Irvine, and at the University of Texas at Austin. His research group uses satellites and develops advanced computer models to track how freshwater availability is changing around the globe. A fellow of the American Geophysical Union and the Geological Society of America, Famiglietti is a regular advisor to state, provincial and federal government officials on water security issues. 
GIWS is co-located with Environment Canada's National Hydrology Research Centre at Innovation Place in Saskatoon. GIWS also leads the largest freshwater research program in the world, the pan-Canadian Global Water Futures Program that includes partners from the University of Waterloo, McMaster University, and Wilfrid Laurier University. 
GIWS was funded initially through the Canada Excellence Research Chair in Water Security (CERC), a $30-million, joint federal-provincial-university commitment between 2011-2018, and led by Founding Director Dr. Howard Wheater, one of the world's foremost hydrologists. 
Officially launched in March 2011, GIWS builds upon leading expertise and capacity in water research at USASK. At GIWS, faculty and government scientists work with students and post-doctoral fellows on interdisciplinary teams to understand how climate change, land management practices, and development of natural resources are affecting our water environment, and develop the improved modelling tools needed to sustainably manage water. GIWS combines expertise in natural sciences, engineering and the social sciences, recognising that people and their activities are of critical importance for water science and management.
Vision & Mission
Our Vision
To undertake world-class research that enables and enhances water security. We define water security as the sustainable use and protection of water resources, the safeguarding of access to water functions and services for humans and the environment, and protection against water-related hazards (flood and drought).
Our Mission
Create a focus and platform for interdisciplinary collaboration that recognizes the societal dimensions of water security, human impacts on the environment, and the linkages and feedbacks between atmosphere, land and water systems. This requires new integration of the relevant spectrum of natural, health and social sciences, public policy and engineering;
Develop the knowledge, science and technologies needed to support integrated water quantity and quality management in the face of uncertain climate and water resource futures, and address local, regional and global water security agendas;
Develop partnerships with key stakeholders to translate science into policy and management support to meet water security challenges, including interactions among water, food, energy and ecosystem services (i.e., benefits to human welfare), climate change adaptation and mitigation challenges, and the human health agenda;
Provide tools, technologies, and computer models for application to key globally significant water security issues, with international application; and,
Create a unique opportunity for governments, industry and universities to invest in and collaborate on one of our most pressing global issues.
Canada 150 Chair and Executive Message
GIWS is led by Executive Director Jay Famiglietti, Canada 150 Research Chair in Hydrology and Remote Sensing, a researcher dedicated to enhancing our reputation as a global centre for science and innovation excellence.
Equity, Diversity, and Inclusion
Equity, diversity, and inclusion (EDI) is a priority for the Global Institute for Water Security (GIWS) at the University of Saskatchewan (USask). As the premier water resources research institute in Canada and one of the most advanced hydrology research centres globally, we are actively engaged in challenging systemic barriers to inclusion in our policies, practices, and research. The well-being of people is at the core of our mission to help protect precious freshwater resources.
Achievements
Since its inception in March 2011, the GIWS has established itself as one of the premier research-intensive institutions locally (ranked #1 in Canada) and globally (ranked #18) in the field of Water Resources as per the 2018 Academic Ranking of World Universities and in InCites. GIWS is a one-stop-shop for water security research at the University of Saskatchewan (USask) and manages individual research programs of more than 86 faculty members from 21 academic units. It is also the home of the Global Water Futures (GWF) program funded by the Canada First Research Excellence Fund (CFREF), Government of Canada, which is the largest university-based freshwater research program in the world. Since 2011, GIWS has recruited 15 core faculty members (7 faculty via the Canada Excellence Research Chair program and 8 faculty via the Global Water Futures Program), which is roughly equivalent to creation of a new department.
In last 7 years, GIWS has secured $263.5 million research grants and contracts, and witnessed an exponential growth in its stature, and in the recruitment and training of highly qualified personnel including 477 graduate students, 136 postdoctoral fellows, 114 research associates and scientists, and 432 research assistants. 
For an institution of only 7 years in existence, it is unprecedented to have five Royal Society of Canada (RSC) Fellows, five American Geophysical Union (AGU) Fellows, two Prince Sultan Bin Abdulaziz International Prize for Water (PSBAIPW) winners, one Einstein Professor Chinese Academy of Science (CAS), and president of the 7500-member Hydrology Section of the AGU. 
The PSBAIPW is a scientific prize with a focus on innovation and rewards the efforts made by scientists around the world towards sustainable availability of potable water and the alleviation of the escalating global problem of water scarcity. Dr. John Giesy is the Einstein Professor, which
is awarded by CAS each year to only 20 distinguished international scientists actively working at the frontiers of science and technology. Dr. Jeffrey McDonnell is the president of the AGU Hydrology Section.
Join Us
Click below for more information on becoming a member of our research community, or to browse the research and job opportunities.