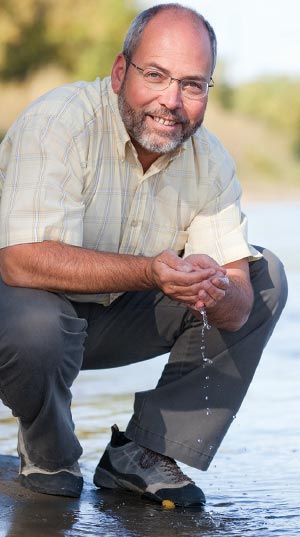 This article first appeared in the Fall 2014 edition of the U of S alumni magazine The Green and White
June 18, 2013: it was already raining hard at Marmot Creek, Alta. when John Pomeroy (BSc'83, PhD'88) decided to call it a day. He told his team of 15 U of S researchers spread out across Alberta's Kananaskis and Canmore areas to get inside and stay safe.
Pomeroy is one of Canada's leading hydrology experts. He studies how snow accumulates, how it is moved around by wind, how it is trapped in forests, how it melts, how rain and snow infiltrate into frozen soil, how water evaporates, and the impact on runoff and streamflow.
Looking at the rain pouring down on Marmot Creek, one of his six western Canadian research basins, he knew downstream flooding was inevitable.
"It had been a cold spring, and the upper areas of the basin were still covered by snow. In some places, the snow pack was several metres deep. The warm rain on cold snow led to rapid snow melt and a rain-on-snow melt flood—something no one could remember happening in their lifetime," he said.
The flood came fast and furious, reaching the town of High River early on June 20. By mid-afternoon, flooding was widespread; 150 people had to be rescued from rooftops, and a full evacuation was ordered—all 13,000 residents had to leave. Similar scenes were playing out across southern Alberta.
Within days, it was clear the province had suffered a major natural disaster—the worst in its history. Could earlier warnings have mitigated the losses? Pomeroy believes so, and his research continues to build a foundation for better predictive modelling and forecasting tools.
Pomeroy's Marmot Creek research site is at the headwaters of the Bow River, which is also the headwater basin of the South Saskatchewan River, the province's largest single source of water for drinking, agriculture and industrial uses. Ninety-nine per cent of the South Saskatchewan's flow comes out of Alberta, and 80 per cent of that comes from runoff from the Rockies, which is mostly snowmelt water. This means that what happens high up on the slopes of the Rocky Mountains directly impacts all of us hundreds of kilometres away on the prairie.
Pomeroy's interest in hydrology began as an undergraduate in the U of S Department of Geography, where he routinely canvassed faculty looking for research opportunities. "I worked on several different studies, but one I remember in particular was the baseline study of river resources for the Meewasin Valley Authority, which was just getting started."
The project, along with the university's stellar reputation in hydrology research, influenced Pomeroy to choose the field for graduate studies. He was co-supervised by two of the field's most respected researchers, Professors Don Gray and David Male (PhD'67) in the Division of Hydrology. In 1988, Pomeroy earned a PhD in agricultural engineering on the basis of his thesis, Wind Transport of Snow. "I studied how much of the snow that fell on summer fallow fields would blow away and how much would sublimate (transfer back into air). It was important to show farmers that they were losing almost a third of their annual snowfall to sublimation, and how leaving tall stubble would let them hold most of their snow pack in place, so the snow was available as moisture in spring."
After his PhD, Pomeroy spent a year researching blowing snow storms and acid snow in the Scottish Highlands as part of a NATO science fellowship, did a short stint with the US Forest Service and then returned home to continue his research at the National Hydrology Research Institute. In 2000, he was recruited by the University of Wales. He might have stayed but for a telephone call, out of the blue, from MP Peter Adams, chair of the federal Government Caucus on Post Secondary Education and Research. "He said the federal government had established the Canada Research Chair program especially to bring guys like me back home, so why hadn't I applied? I didn't even know about it," Pomeroy said.
Soon after, he was contacted about a research chair in the U of S Department of Geography. In August of 2003, Pomeroy returned home as a Tier 1 Canada Research Chair (CRC) and set about establishing the Centre for Hydrology.
Developing a cold region hydrological model
Pomeroy's CRC research focuses on the hydrological interactions between landscape and atmosphere, particularly the physical processes governing snow-cover. Rain-on-snow events, while just one aspect of his work, are of particular importance in flood prediction. "It's critical that we understand because the rain-on-snow event was something we hadn't seen before in the Canadian Rockies, and it really enhanced the size of the June 2013 flood," he said.
While his work includes developing better predictive modelling, Pomeroy said he didn't start off as a hydrologic modeler. "In the 1990s, I was frustrated with the available models because they seemed incapable of predicting the type of floods we had on the Prairies, which tended to be due to snow melt over frozen soils. Existing models weren't good at predicting where snow accumulated and couldn't deal with frozen ground—the whole reason we get spring run-off is that snow melt doesn't enter frozen soil very readily."
Pomeroy's work led to development of the Cold Regions Hydrological Model (CRHM), a software platform for building physically based hydrological models over small- to mediumsized basins. CRHM will model blowing snow, snow interception in forest canopies, sublimation, snowmelt, infiltration into frozen soils, hillslope water movement over permafrost and more. It's proving an effective tool for simulating the cold region hydrological cycle for prairies, boreal forest, Arctic and sub-Arctic regions, and mountains.
Adapting to a changing climate
It's standard terminology: the 1-in-100- year flood. The term expresses probability, but a common interpretation among the general public is that such an event happens once every 100 years. We've just had the flood of a lifetime (or drought, snow storm, etc.), so we're safe for a while, right?
In fact, a 1-in-100 year event has a one per cent probability of occurring every year—the probability is even higher after a big event. Given a changing climate (according to Pomeroy, average temperatures in the Kananaskis region are 2.5 to 3 degrees warmer than in the 1960s), historic measurements are no longer a dependable means of predicting future floods.
Adding up the human cost
The official estimate of the cost of the June 2013 flood is $5 billion. 
Pomeroy thinks the actual total will be nearer $10 billion. 
Behind the dollar signs are the human lives. The flood forced 100,000 Albertans from their homes, including the entire population of High River. 
Some returned home to minimal damage, others lost their homes, and four residents lost their lives. 
Robert Delanoy (BComm'73), a High River resident since 1976, was one of the lucky ones. "On the morning of June 20, I heard the radio news say there was a risk of flooding; 2005 levels were expected. I was not too worried. In 2005, my sump pump did not even come on. So if that was all that was coming, no big deal."
"At about 7:30 am, I looked out our upstairs window. All of a sudden, I could see water rolling down Baker Creek, an overflow creek that runs down our back yard. I thought, no, this does not look like 2005!"
Delanoy set up extra sump pumps and generators. "A dyke had been built around our area to protect us from a 1-in-100 flood. By 2:00 pm, the flood topped our dykes. From my son's cell phone communications, we knew the town was under a huge emergency, the downtown was flooded, and boats and combines were being used to rescue people."
Damage to his home was minimal: two feet of sewer back up. Fixable, and yet the Delanoys will still lose their home. Beachwood Estates is located in a floodway and is one of the areas targeted by a provincial government buy-out plan. "There were 31 houses in our neighbourhood. Five or six homeowners jumped at the opportunity and were gone—lost to our community. Over the past year, more have taken the buy-out. We wanted to stay, but at some point it's really not up to you. We're taking the buy-out and we'll need to move out within the next year."
High River resident Tom Dutton (BAPE'70) has also lived through previous floods. "The 2005 flood was bad enough, but I've never seen anything like this. We were evacuated from our street in the bucket of a hayloader. At first, I laughed because it didn't seem that bad to me. Then about a block and a half away, a street that was normally just a street became a raging torrent. Seeing vehicles floating down the street while I'm riding in the bucket of a hayloader, that's an experience I won't forget—one I don't need to repeat, either."
Dutton and his wife, Lynne, spent 10 nervous days in Calgary before they were able to return home. While their home endured flooding from the sewer back up, the visible damage to their community was traumatic. "There were mounds of debris on lawns all over town," Dutton said. "There are still parts of town where businesses are boarded up and lots of empty lots where a year ago there was a house."
Despite the cost to themselves and their town, Dutton and Delanoy both say the kindness of strangers was overwhelming. "It was just huge," Delanoy said. "Everyone here was stressed out, played out and needed outside help, badly—and we got it. We will never be able to thank them enough."