Famiglietti, executive director of USask's Global Institute for Water Security and the Canada 150 Chair in Hydrology and Remote Sensing, says that the water availability we've been counting on the past 50 to 100 years is changing—and the Saskatchewan River Basin is just one example of that change.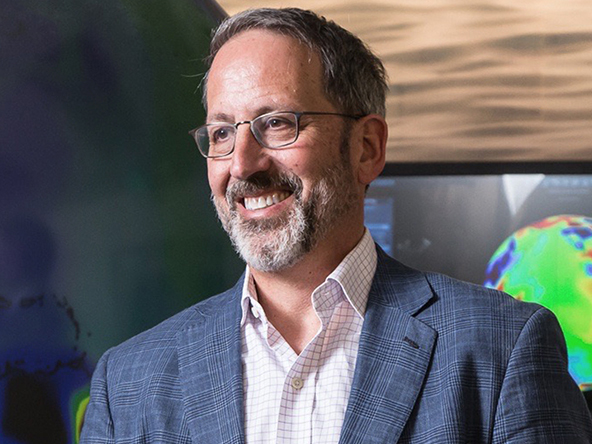 "We're going to get less precipitation stored as snow in the mountains, and therefore greater river flows in the spring and lower flows in the summer," said Famiglietti, who is also a professor in USask's School of Environment and Sustainability. "The timing of available streamflow will change, and the difference between the peak and low flows, the maximum and minimum, will increase."
People used to think the availability of water from sources like rivers and groundwater would always be reliable, but that's no longer the case, and that change is happening rapidly. Famiglietti notes that Canada is warming at twice the global rate, the Prairies at three times the global rate and northern Canada at four times the global rate.
"The way we experience climate change is through water; it's the messenger that delivers the bad news about climate change to your front door," he said.
Increasing world population is putting even more pressure on these systems. 
According to the United Nations, there are about 7.7 billion people in the world today, and that number is expected to grow to about 8.5 billion in 2030, 9.7 billion in 2050, and 10.9 billion in 2100. The growth has largely been driven by an increasing number of people surviving to reproductive age—the global lifespan was 64.6 years in the early 1990s, and 72.6 years in 2019.
Famiglietti said there are huge, water-driven challenges all over the world—places that are experiencing prolonged droughts, or places that rely on groundwater that's unmanaged.
"Over half the world's aquifers are being depleted. In Australia, Africa, the Middle East, South America—literally on every continent," he said. "Water problems touch virtually every person."
As the water cycle becomes more impacted by climate change and population growth, access to water is going to become an important issue.
"It's going to pose greater challenges for access to water for different groups, especially marginalized groups, like Indigenous communities, poor communities, and communities of colour," Famiglietti said. "Equitable access to water should be a fundamental human right."
Managing the water supply
The pace of change is now so rapid, Famiglietti said it poses big challenges for water managers—the people at municipal, provincial, and national level who ensure water treatment facilities are working, the infrastructure is up-to-date, and reservoirs are properly managed.
"What a water manager strives to provide and what we as consumers want is a completely reliable water supply; we want to turn the faucet on, and not worry about it," he said. 
"When the water cycle becomes more variable with more flooding and drought … water managers must make their decisions under greater uncertainty. They don't know what's going to happen tomorrow, so they do their best to provide a reliable water supply. But it is going to be far more difficult for them in the future."
It is these water managers who are on the front line of the water challenges the world is facing.
"We're not going to solve climate change, but we can manage our way through," Famiglietti said. "We can make better predictive models, make better observations from ground and space. There is a lot of room for improvement."
Better models would allow managers to answer tough questions more easily, such as, 'Should we let the water out of the Lake Diefenbaker reservoir because we need room to store water to come?' 
"Imagine if you could accurately predict the weather every day, or even better, every month—then water management would be simple," Famiglietti said.
He added the challenge is daunting when he looks at the global nature of the problem, but he feels optimistic when he sees how places like Canada are approaching the issue.
"This government has recognized the huge scope of the problem, and that it has a bunch of smart people in research labs, universities and as future students. Canada has wisely invested a tremendous amount of in research to help develop solutions to help better predict climate change and how it's going to impact Canada's water security down to the local level."