Changing Cold Regions Network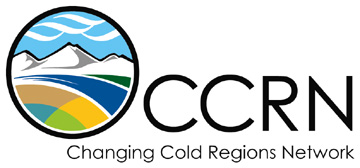 The cold interior of western Canada is experiencing rapid environmental change. CCRN is developing the tools and scientific understanding to manage this change.
The Changing Cold Regions Network (CCRN) is a collaborative research network bringing together the unique expertise of a team of over 50 university and government scientists, including 36 Canadian scientists representing four government agencies and eight universities, as well as 15 international scientists.  The network is funded for five years (2013-18) through the Climate Change and Atmospheric Research Initiative of NSERC.
The network is administered and housed here at GIWS.
CCRN's objectives are to integrate existing and new sources of data with improved predictive and observational tools to understand, diagnose and predict interactions amongst the cryospheric, ecological, hydrological, and climatic components of the changing Earth system at multiple scales, with a geographic focus on Western Canada's rapidly changing cold interior.
Through its members, the network operates Water, Ecosystem, Cryosphere and Climate (WECC) observatories distributed across the interior of western Canada. These observatories are located throughout the Saskatchewan and Mackenzie river basins and are outlined below.
For more information, visit the network's website.
Mackenzie River Basin
The Mackenzie River Basin is a 1.8 million square kilometre basin in northwestern Canada. It drains 20 per cent of Canada's land mass, including waters from the Northwest Territories, the Yukon, British Columbia, Alberta and Saskatchewan. The basin includes two freshwater deltas - the Peace-Athabasca and the Slave River Deltas. Many First Nations communities rely on the natural rhythms of high and low river flows in the deltas and the subsequent increase in biological productivity to sustain traditional livelihoods.
The Mackenzie River Basin is part of CCRN's study area. The network has the following observatories monitoring environmental change in the basin: