Background
Freshwater use for agriculture accounts for almost 80 per cent of human consumption, which intimately links food and water security. The need for sustainable water resource management, i.e. to produce more food with less water, increasing human capacities and institutional structure and contributing towards better informed decision-making is more prevalent than ever, in particular in the context of the current pandemic crisis.
The University of Saskatchewan (USask) is home to world-class researchers working on solutions to local-to-global scale problems that are enhancing both water and food security. USask's Global Institute for Water Security (GIWS), Global Institute for Food Security (GIFS) and College of Agriculture and Bioresources are co-organizing a virtual workshop for USask researchers with interests in exploring research opportunities and collaborations on the food-water nexus.
Workshop Purpose
The purpose of the virtual workshop is to understand USask's existing food-water nexus research capabilities and to provide the opportunity to explore new and greater collaboration and synergies on campus. The workshop will be organized around a few plenary speakers, and then topical sessions or breakout groups, depending upon the responses received. We will follow this announcement with a call for short presentations on your research or your ideas for new collaborations across any of the units on campus. Furthermore, if you have ideas for topical workshop themes, please contact the organizers listed below. The workshop is limited to USask faculty and researchers, but is open to all campus units.
Workshop Program & Agenda
Please click below to download the program in PDF format for more details, the agenda, and speaker biographies.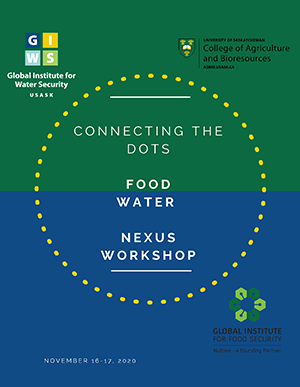 Agenda
Monday, November 16, 2020
Moderators:
Jay Famiglietti, Andrew Ireson, Christy Morrissey, Jeffrey McDonnell, Dave Schneider
9:00 AM - 9:45 AM
11:00 AM - 11:45 AM
1:00 PM - 1:45 PM
3:00 PM - 4:00 PM

Sara Sadri

End of Day Discussion
Open Discussion
Tuesday, November 17, 2020
Moderators:
Andy Sharpe, Bing Si, Angela Bedard-Haughn, Leon Kochian, Dave Schneider
9:00 AM - 9:45 AM
11:00 AM - 11:45 AM
1:00 PM - 1:45 PM
3:00 PM - 4:00 PM

End of Day Discussion
Open Discussion