To download the full report, please visit the Ceres website
here
.
Appendix A - Methodology: Data Collection and Processing
Summary
The systematic review process [196] was applied, combined with a bottom-up and top-down approach for data collection and review as explained in the following appendices. The bottom- up method was used based on big data analytics of the raw data from key industries and sectors that have relatively high occurrence of mentions among studies. The topdown method was employed to solicit expert consultation and target searches to improve the quality and coverage of data. Both approaches are explained further in Appendix B and C.
Data coverage
This report primarily explores industry impacts on freshwater. The data for this synthesis report is drawn from academic publications and grey literature. Academic publications are peer-reviewed papers that include review articles, research papers, and technical reports. Grey literature includes reports from various institutions and organizations, policy documents, working papers, theses, and news articles. Relevant data were retrieved from publications spanning from 1950 to January 2021.
Data retrieval
A keywords-based strategy was employed to identify relevant records in the literature. Figure A28 illustrates the logic structure of the application of the keywords-based strategy for data retrieval. It should be noted that the words in the boxes are examples that help to clarify the process. In general, the search strings contain three parts named the objective layer, the synonymous layer, and the operating layer (with the constraint). The objective layer specifies target objects (i.e., industry and water in this case) and the synonymous layer includes synonyms corresponding to those words in objective layer. Given that the report aims to synthesize evidence, theoretical and lab-based studies are viewed as irrelevant. Such exclusion was identified using a joint, automated, and manual process, which is further explained in the next subsections. The combinations of words, as search strings, are then applied to retrieve raw data from key databases, such as the Web of Science, Scopus, and Google Search.
Figure A28. Exemplified strategy for keywords-based data retrieval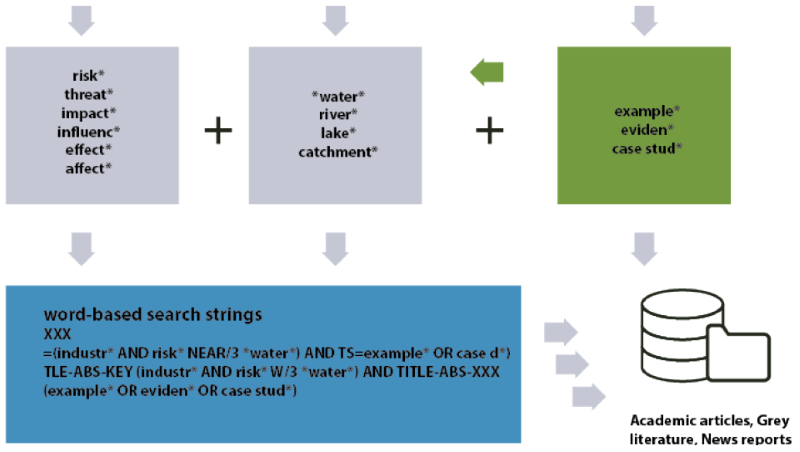 The data collection process was made up of three parts: scoping review of existing academic review papers, target search for grey literature, and identification of available studies in a broad sense.
Scoping review
A scoping review is a relatively new approach for evidence synthesis. It is complementary to systematic review in that it can provide a quick overview of a study field before conducting detailed systematic review. It can therefore help to map out broad topics and determine the potential scope [197]. For this assessment, a scoping review was conducted to investigate the main industrial impacts on water that have been frequently studied and to avoid repeating existing work.
Using the search strategy shown in Figure A28, 1,985 records were initially identified from both the Web of Science and Scopus (two widely used academic bibliographic databases), and 21 reports (review documents) were found from Google and target searches within websites and databases of national and international institutions.
Apart from the 21 review documents, an additional 235 grey literature documents were found using target searches on Google Search Advances and reputable institutions. The target institutions include Accenture, CNN, Ceres, the Food and Agriculture Organization of the United Nations, KPMG, the New York Times, Pacific Institute, SEI, the Stockholm International Water Institute, Thomson Reuters, the UN, the World Bank, the World Health Organization, WRI, and WWF. All the documents were later screened to identify those most relevant for the assessment.
To identify all available evidence, a set of broader word combinations were developed for the topic search for data from the Web of Science. The topic search means that all the records were retrieved from the database if they contained any of the developed words or word combinations in their title, abstract, or keyword list. This process reduced potential bias of the review. That is, the review should not be restricted to any industries that have been identified in review reports and not be biased by the experts' opinions but be guided by what is available in the literature.
The initial search returned more than 3 million records which, after the additional scoping exercise, was reduced to 333,458 records (Table A4).
Data processing to establish the bibliographic database
Scoping review data
For the scoping review data, the initial 1,985 records (after removal of duplicates) were further reduced by screening the titles and abstracts to exclude irrelevances. Irrelevant literature was classified as those that contained the developed keywords but did not really report impacts from specific industries on water systems. Papers that contained relevant contents in their titles but were unclear in their abstracts in terms of scope match were evaluated by a second round of full-text assessment. As a result, a total of 113 review papers and 20 grey literatures remained, making up the dataset of the scoping review.
Grey literature data
Similar to the review data, the initial 256 grey literature documents were further screened and those having no full text or having less content on industrial impacts on water were removed. The final screening generated a list of 149 documents, which were then grouped into 38 primary documents for further full-text assessment and 111 complementary documents for additional review.
Broader evidence data
For the broader dataset, automated big data analytics, combined with two rounds of manual screening, were undertaken. The automated analysis applied a citation network analysis with a text-mining approach to all papers obtained from the Web of Science. More specifically, networks among papers were generated using the direct citation relations extracted from bibliographic data. In other words, if paper A cites paper B (displayed as nodes in the network), then A and B are assumed to have close or similar concerns and are thus linked by an edge (displayed as a line between the two nodes in the network). Papers that have no citing and cited relations with any others are removed from the network (step 1 and 2 in Figure B29). This networking process helped to reduce initial data records from 333,458 to 227,315.
Furthermore, a text mining approach was performed to remove more papers from further review. Text-based data mining and analysis uses machine-learning artificial intelligence with natural language processing to translate human language so that computers can understand and analyze the importance of documents to this study. The approach focused on extracting key terms from the documents in the networks. All key terms were then ranked by the frequency-inverse document frequency (TFIDF). TF-IDF is a measure to assess the importance of a word to a document in a collection of documents. The higher the score of TF-IDF, the more relevant and important the word is to the document. The text mining approach helped to further reduce data records to 123,913, to establish the third dataset. All three datasets are composed of the knowledge base of available evidence on industrial impacts on water.
Appendix B - Methodology: Key Sector and Industry Identification
Appendix C - Methodology: Information Extraction—DPSIR
Appendix D - Methodology: Industrial Impacts on Freshwater: Scoring Criteria
Table D5. Score criteria for industrial impacts on freshwater resources.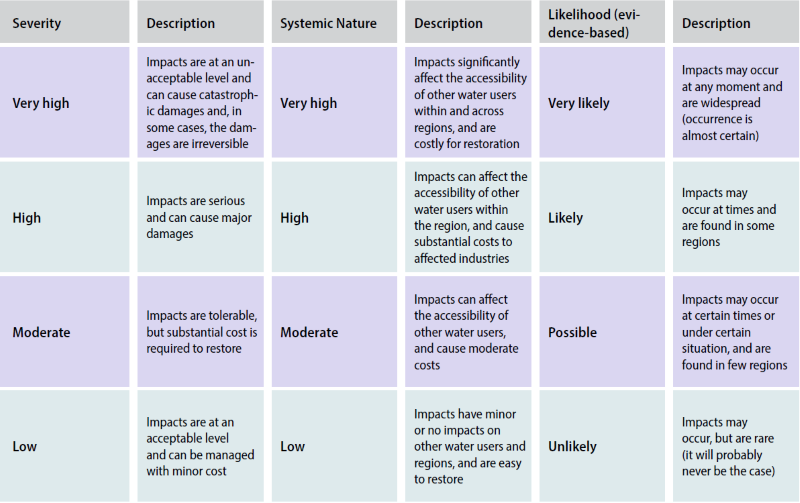 First, a set of narrative criteria for scoring impacts was established as described in Table D5, identifying four levels of severity, systemic nature, and likelihood. Metrics shown in tables D6, D7, and D8 illustrate how the scores for severity and the systemic nature of impacts should be given based on the narrative in Table D5. For each impact, severity and likelihood of impact were scored using Table D6, while the systemic nature and the likelihood of systemic impact were scored using Table D7. Further, a matrix was developed to aggregate severity and systemic nature scores into overall impact levels (table D8) based on the evidence identified in the literature. Based on literature review and extracted data, all identified impacts were classified into water quantity and quality dimensions, and their corresponding industries (Table D9). Table D9 also specified where these impacts are generated. A relative assessment was performed to produce the results presented in Table 1 and 2 in the main report.
The framing of impacts in this way allows for overall scoring and weighting of the relative impacts of these different industrial sectors, which can be helpful for investors and companies in prioritization.
Table D6. Severity of impacts assessment matrix. Scores the severity of impacts, based on the criteria outlined in Table D5. Severe impacts with a high likelihood of occurring are considered Very High risk and marked in red. This score is also noted in Table 1, of the main report, within the column "Severity."
---

Table D7. Systemic nature of impacts assessment matrix. Scores the systemic nature of impacts based on criteria outlined in Table D5. Highly systemic impacts with a high likelihood of occurring are considered Very High risk and are marked in red. The score is also noted in Table 1, of the main report, within the column "Systemic Nature."
---

Table D8. Overall impacts assessment matrix. Compares the scores of the severity and systemic nature to obtain an overall assessment of each impact. Like Tables D6 and D7, a severe impact with a high systemic nature would have an overall classification of Very High risk and is marked in red. Scores are noted in Table 1, of the main report, within the column "Overall Impact."
---
Table D9. A high-level summary showing water quantity and quality impacts along the value chain. Identifies the industries contributing to high and very high impacts to water resources found within the literature and specifies the impact and the location within the value chain where the impacts take place. Industries identified as having low impacts on freshwater resources are not included in the table (Hotels, Restaurants, and Leisure, Consumable Fuels, Electroplating, and Construction Materials).

Appendix E - Industry Sectors: Value Chain Analysis of Practices, Externalities and Water Impacts Globally (continued)